Seattle Sounders FC and the RAVE Foundation
April 2017
On the 10th anniversary of the Sounders' MLS era, Documentary Media is partnering with Seattle Sounders FC and the RAVE Foundation to celebrate over 40 years of Sounders soccer in Seattle. The book commemorates the relationship between the community and professional soccer in Seattle, from the groundbreaking Sounders of the 1970s in the North American Soccer League to their current position as a Major League Soccer powerhouse. Scheduled release date: March, 2018.

Documentary Media teams up with University of Washington Press
April 2017
Documentary Media is partnering with the University of Washington Press to distribute several of our regional titles, including our HistoryLink books: Waterway: The Story of Seattle's Locks and Ship Canal, due out this June, and Woodland: The Story of the Animals and People of Woodland Park Zoo, released last month.
The Story of Knight Construction
April 2017
In an upcoming book on Knight Construction and Supply, author Barry Provorse tells the history of this family-owned Pacific Northwest company founded back in 1968. Scheduled release date: December, 2017.
Chateau Ste. Michelle: The First Fifty Years (1967-2017)
March 2017
In this collaboration between Documentary Media and HistoryLink, author Peter Blecha recounts the first five decades of Washington winery Chateau Ste. Michelle, taking us all the way back to the autumn grape harvest of 1967, which produced some rather auspicious wine.
Look for Chateau Ste. Michelle: The First Fifty Years in August, 2017.
A History of Kenworth
March 2017
Documentary Media is teaming up with Kenworth Truck Company and writer Doug Siefkes to create a new illustrated history of Kenworth. It was almost 20 years ago that we produced the first history of the company, and a lot has happened since then!
Scheduled release date: October, 2017.
A History of the Northwest Power Pool
March 2016
In collaboration with HistoryLink, Documentary Media is currently producing the story of the Northwest Power Pool, an organization of the region's major electrical utilities that began during World War II. As author Jim Kirschner recounts, the Power Pool became famous for delivering huge amounts of reliable electricity to regional industries. Following the war, this utilities collective decided to continue, as they saw the countless advantages of working together.
A History of the Northwest Power Pool will be released September, 2017.
For Future Generations: A History of the Museum of Flight
August 2015
Author Howard Lovering chronicles an adventure in museum building that resulted in one of the finest flight museums in the world: the Musuem of Flight, a favorite Seattle institution whose story is central to regional history. With over 400 illustrations, including beautiful archival photographs, this book celebrates the museum's past fifty years and stands as a symbol of appreciation to its thousands of members, volunteers, and annual visitors. Released in January, 2017.

One Hook at a Time: A History of the Deep Sea Fishermen's Union of the Pacific
December 2014
The Deep Sea Fishermen's Union of the Pacific is the oldest known fishing union representing crewmen in the United States. As told by former commercial fisherman Jeff Kahrs, the DSFU's story is one of perseverance - through the cold, labor disputes, and lean seasons - and love of the profession.
"We keep coming back season after season. Why? Because once it's in your blood, it's hard to get it out."

Inspired: The Churches of Seattle
July 2014
Author Rick Grant teams up with award-winning architectural photographer Lara Swimmer to capture the design, architecture, and history of Seattle's innovative sacred spaces. This full-color, hardcover coffee table book is available now.
UPDATE: Inspired: Churches of Seattle won two book awards in 2014:
Gold in the 2014 Illumination Book Awards
Silver in the 2014 Benjamin Franklin Awards
Get your copy now at Seattle area bookstores or at the Inspired website.

The History of Global Diving
April 2014

Documentary Media has released In Deep: The Story of Global Diving & Salvage. Author Joe Gustav chronicles the history of this iconic Pacific Northwest company as it grew from a small, Seattle-based diving crew to a global marine company with multiple business lines. From historic wrecks and rescues, to high-technology saturation diving, Global's story is captivating.

A History of Shipping in the Aleutian Islands
December 2013

Author James Mackovjak traces the history of shipping to one of the most remote and difficult to reach parts of the US. An important hub of the region's massive fishing industry, the chain of Alaska's Aleutian Islands are supplied and serviced by small, versitile ships, that often sustain a relentless schedule through 60-knot winds and 40-foot swells. This book follows the history of this unique maritime cargo operations from the 19th century to the present.
UPDATE: Aleutian Freighter wins a Silver Medal for Best Regional Non-Fiction in the 2014 Independent Publisher Book Awards
Woodland: The Story of the Animals and People of Woodland Park Zoo
January 2016
In partnership with HistoryLink and the University of Washington Press, Documentary Media is in the process of producing a history of Seattle's Woodland Park Zoo. Author John Bierlein offers a fond look at the zoo's animals and the people who care for them. This lavishly-illustrated book traces the zoo's story, from its nineteenth-century origins to its role as a place of civic pride and a pioneer in zoo design. Released in April, 2017.
Documentary Media joins forces with HistoryLink.org
September 2015
Documentary Media is proud to partner with HistoryLink.org, our region's premiere online resource for community history. The first and largest online historical encyclopedia of its kind, HistoryLink focuses on Washington State history, providing original works prepared by historians, writers, and other experts. We look forward to collaborating with HistoryLink on upcoming projects.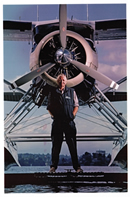 Mr. John: The Autobiography of John N. Nordstrom with Dave Boling
May 2015
Titled after his nickname, Mr. John is the autobiography of John N. Nordstrom, from life growing up in the Nordstrom family to his pivotal role as the grandfather of the Seattle Seahawks. One of the biggest moments of his life was presenting the George Halas trophy to current Seahawks owner Paul Allen after the Hawks won the NFC Championship in 2014, on their way to the franchise's first Super Bowl victory.
Private release: November, 2015.

History of the Green Music Center in Sonoma County
February 2015
In For the Love of Music: Donald and Maureen Green Music Center, author Jean Wasp tells the story of how Sonoma State University's Green Music Center was first realized, how it came to be, and what it took to be open for its inaugural season in 2012. The up-and-down journey to realize the cultural arts destination at a small college in northern California is the story "of how to renew one's vision and keep it alive in the most challenging times."
Released in September, 2015.

Tradition and Change on Seattle's First Hill: Propriety, Profanity, Pills, and Preservation
December 2014
With an introduction by Paul Dorpat and essays written by local experts, the book focuses on the growth and change of First Hill's residential, social, community, religious, and institutional identity over the last century. Tradition and Change was released in commemoration of Historic Seattle's 40th anniversary.

The DeLaurenti Cookbook
August 2014
DeLaurenti Food & Wine's new cookbook is now available. With over 50 recipes and tips on wine, cheeses, charcuterie, and working in the kitchen, there is a lot of DeLaurenti know-how packed into this 128-page full-color cookbook. Featuring food photography and on-location images by Jim Henkens, the DeLaurenti Cookbook is available at DeLaurenti Food & Wine in Pike Place Market, Seattle, and at bookstores and online.

Drawing on Our History: Fishing Vessels of the Pacific Northwest & Alaska
July 2014

Author James Cole has spent 50 years designing, building, and repairing fishing vessels in the Seattle area. As a naval architect, he specializes in research-based paintings and drawings of fishing vessels at work. Drawing on our History: Fishing Vessels of the Pacific Northwest & Alaska describes the evolution of fishing vessel design that is unique to the Pacific Northwest, from native fishing canoes to the modern fishing fleets of Alaska and the Pacific Northwest. Available now on Amazon and at bookstores.
UPDATE: Drawing on Our History won a Silver Medal in the 2014 Independent Publisher Book Awards